Surly bike stockists Richmond, SW London 020 8332 0123
Surly stockists Richmond Cycle Centre are based in Richmond-Upon-Thames, SW London. We have Surly bikes available to demo and we can supply any bikes, frames or parts, usually within a few days.
Call us on 020 8332 0123 now!
Surly bikes design and produce durable, versatile bikes, frames, & parts for people who ride a lot. No B.S. Unless you deserve it.
We started selling Surlys because we ride them and, well, hey we like 'em a lot! We know that not everybody is going to get the fact that steel bikes ride a lot nicer than your average aluminium bike because the majority of bikes sold are made of aluminium and that's kinda the norm. So if you don't want to follow the norm and once you can get your head around Steel as not being 'old fashioned' and having very nice ride qualities and maybe you have a test ride, then maybe just maybe you will get what we are getting at! You'll then probably fall in love with Surly like we did (don't worry we won't tell your partner!) and hey presto you got a bike you just like riding, maybe not just to work and back (which by the way will be a lot more comfy anyway) but a whole lot more often.
Surlys use Steel for a lot of reasons that we won't go into detail explaining here, but the crux of it is that steel offers a nice balance of design, flexibility, ride quality, cost effectiveness, durability, repairability and environmental sensitivity. Why would you choose anything else?
Surly Big Dummy
The Surly Big Dummy is a long-tail cargo bike, which means that not only can you haul a serious amount of cargo, different accessories can be added to your Big Dummy frame and deck depending on what you want to carry….
Surly Big Fat Dummy
The Surly Big Fat Dummy is a long tail cargo bike that took a few too many doses of growth hormones. At first glance, you might say that we just put bigger tires on a Big Dummy. But if you said that, you'd actually be very wrong so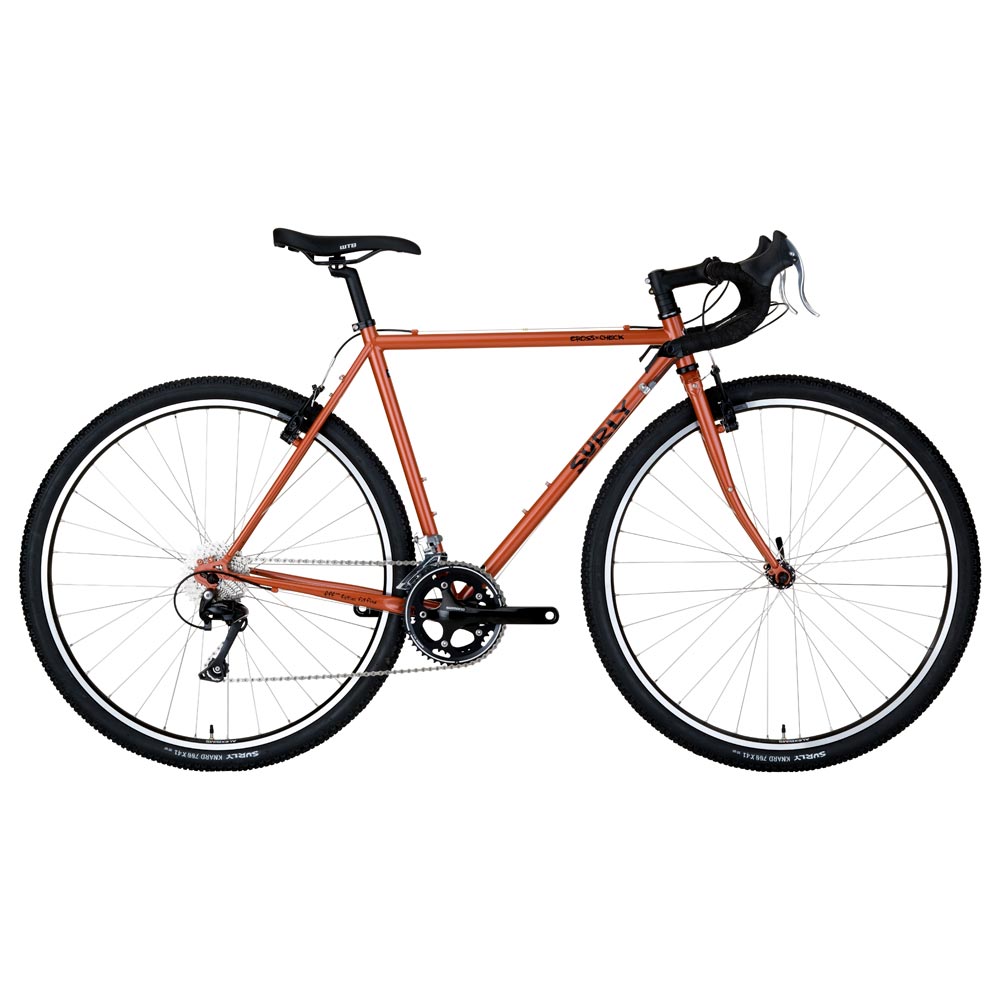 Surly Cross-Check
I love the Surly Cross-Check, I've used it all day everyday, all terrains and all over the place. I have carried far too much on it, have roughed it around and ridden it to work and back for years. It still feels just as fresh and just as
Surly Disc Trucker
What is the Surly Disc Trucker? here's how we see it; our Long Haul Trucker enjoys a reputation as one of the best riding and most value-packed touring bikes out there. It's been around long enough to be tested in the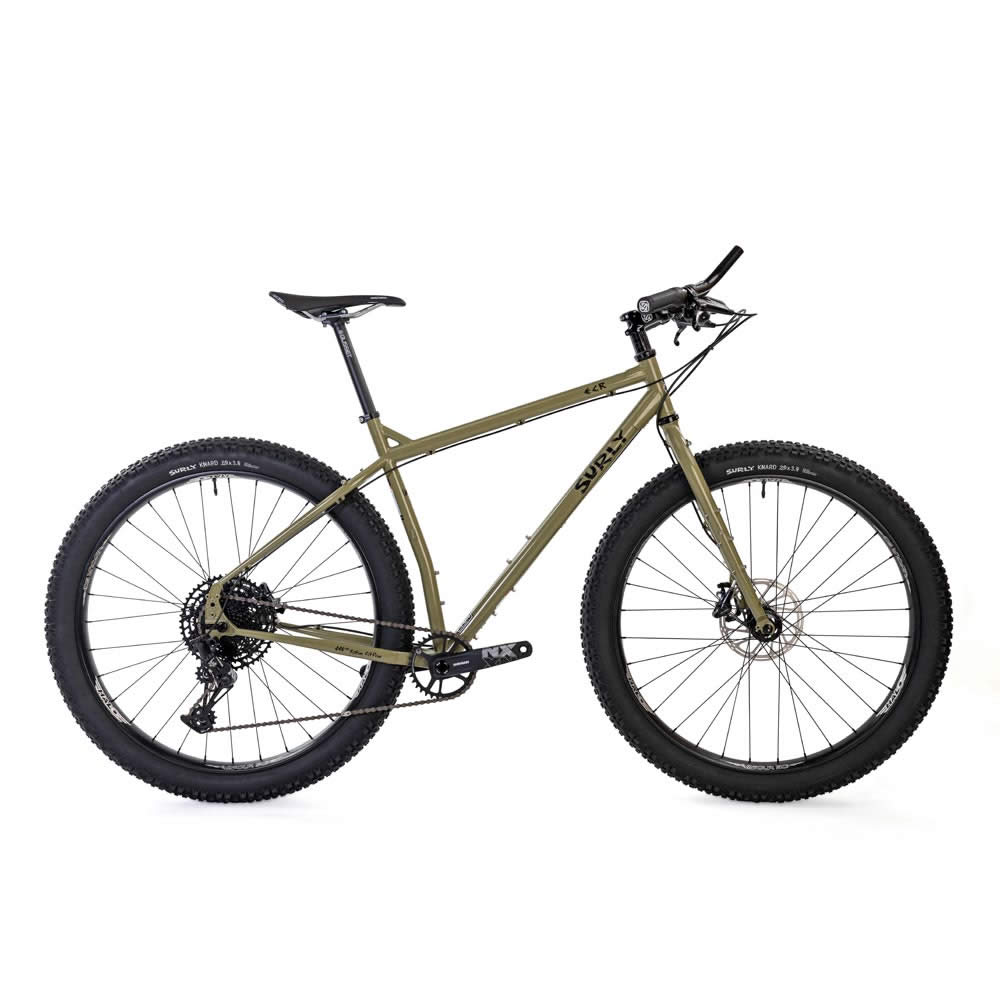 Surly ECR
Sometimes the only way to break the humdrum of life is with a bike ride off the beaten path. Sometimes just for a quick overnighter, sometimes a month and half fully-loaded through nine countries.
Surly Fat Bar Cross-Check
The bicycle is a great way to get around. It's a lot less expensive than a car and a lot less crowded than public transportation. These days, many bicycle companies forsake practicality in the name of speed, weight, or some other 
Surly Ice Cream Truck
The Surly Ice Cream Truck goes where most other bikes can't. Snow, rocks, mud, sand — you name it, and chances are, someone has ridden it on an Ice Cream Truck. Don't let that terrain-crawling ability fool you into thinking 
Surly Karate Monkey 27.5
Years ago the Karate Monkey helped start the 29" wheel movement and, as time's gone by, many companies ­– Surly included – have experimented with even more wheel sizes. With so many different types and sizes of tires
Surly Krampus
Five years ago, Surly launched the Surly Krampus because they wanted something that was more than a mountain bike but less than a fatbike. They dubbed it a "plus bike" and set it loose on the world. It turns out, 
Surly Long Haul Trucker
Over the years the Surly Long Haul Trucker touring frame and complete bike has developed a devoted following. People understand and appreciate the LHT's dependability and everyday riding comfort, 
Surly Midnight Special
The Midnight Special – a Road Plus bike designed to provide comfort and speed on those all-day rides that extend well beyond fresh pavement. It rides like a cloud on smooth pavement. but that's expected.
Surly Ogre
If you're like us, your bike needs will likely change by the day, week, month or year. Ogre will get you to your job during the week, then way out of town on the weekend. It even has the chops to handle a cross-country trek or nine.
Surly Long Haul Trucker
Over the years, we've been finding new and better ways to haul stuff on the front of our bikes — from fork braze-ons to racks to bags. The Surly Pack Rat is the culmination of all those years and is specifically designed
Surly Pugsley
The Surly Pugsley has been redesigned to be the ultimate off-road touring and exploration rig. Maximalist off-road tourists, explorers looking to get off the beaten path, and survivalists for whom being stranded isn't an option
Surly Steamroller
The Surly Steamroller is the bicycle in its simplest form — the fixie. You may be thinking, "Fixies are so 2008" or "All the blogs I read say I should like something different now." Well, the Steamroller is different.
Surly Straggler
So what is this Surly Straggler anyway? The easy answer is to say that we added disc brakes to a Cross-Check and this is close to accurate. People have asked us to make a disc version of our highly versatile
Surly Troll
Off-road touring can be a zesty enterprise, but it's not without its perils. Bicycles are simple machines that are extremely efficient, but all simple machines carry along with them the chance of breaking down. 
Surly Wednesday
The Wednesday is the result of over a decade of fat bike design experience distilled into one steely-eyed package. With Wednesday, Surly borrowed elements from some of their Trail and Touring models to create a whip
Surly Bridge Club
There are those who hear the phrase "bike touring" and immediately think of long-forgotten stretches of highway, small-town oddities, and roadside attractions. Some instantly recall desolate stretches 
Surly Lowside
Remember when you were a kid and still had ambitions in life and riding your bike felt like pure freedom? Rolling around town without a care in the world, heading to friends' houses, and being home in time for dinner